SPLAV ON THE RIVER
Tata Mata Novi Beograd Konoba & Wine Bar
In Serbian language, "Tata Mata" is a well-known saying used to describe excellence. Keeping this fact in mind, back in 2015 when we opened our first restaurant, we meaningfully gave it this name.
A classic Dalmatian and seafood cuisine is the foundation of our creation, while modern cooking techniques provide a way for us to be among the best in the rich Belgrade restaurant offer.
In 2022, we opened another restaurant in another location, in New Belgrade, at Savski Nasip, as the name itself suggests, Tata Mata Novi Beograd Konoba&Wine Bar.
The restaurant, designed on a magnificent splav located on the Sava River, fulfilled one of our biggest wishes. We brought the "sea" to Belgrade and got the opportunity to complement our program with artistic and musical content.
TAVERN & WINE BAR
Menu
Dishes of author's cuisine based on the traditional Dalmatian and sea cuisine, prepared in a modern way, will provide an unforgettable experience.
TAVERN & WINE BAR
Wine Card
Our wine card is a segment that we are continuously working on, trying to provide a meaningfully unified offer. Meet over 350 wine labels from all around the world.
INDIVIDUAL EXPERIENCE
Boat tour
Place of departure:
Splav Restoran Tata Mata Novi Beograd ili Marina Ada Ciganlija
Tata Mata Raft Restaurant Novi Beograd or Ada Ciganlija Marina
Program:
During the boat ride on the Sava River, the boat sails upstream to the beginning of Ada Međica, past the rafts, then downstream under the Ada Bridge, past Belgrade Waterfront, Beton Hala, Kalemegdan and Ušće, to Silos, and back.
Tour duration: 2 hours
Price: 46.000 rsd
Included in the price:
Sailing on a luxury boat with a skipper
A bottle of Clicquot champagne (enough for 6 people) with champagne service
Note:The maximum number of people on board is 9 and the price is total regardless of the number of people.
Gastronomic proposal – a bucket of fried squids – Seafood Bucket.
The bucket contains: 300 g fried squids, 5 fried shrimps and Crunchy petals.
Additional options:
Agreement regarding the food and beverages from our restaurant with service during sailing
Longer sailing
Decoration
A combination of sailing and dining in the restaurant
For any further questions, please contact the restaurant management.
Bubble days and nights
Champagne Station
A great love for champagne has resulted in an exclusive collaboration between the Tata Mata restaurant in New Belgrade and the Veuve Clicquot brand.
"Bubbles Days and Nights" represents a sparkling project within which our dear guests will be able to drink champagne by the glass at a promotional price throughout the year with an occasional music program.
Over time, Tata Mata has set the standard in relation to working with fresh and exclusive ingredients through dishes from our kitchen. With our position on the river, we have made it possible to open a station for clients where they can stock up on chilled wine, champagne, water, ice, as well as specially created "take away" menu while enjoying the stay on their vessel.
Take away menu:
A bucket of fried squids (Seafood Bucket)
The bucket contains: 300 g fried squids, 5 fried shrimps and Crunchy petals
Price of the bucket: RSD 4,200
Veuve Clicquot champagne (chilled) costs RSD 11,000.
THE SEA IN BELGRADE
Musical evenings
We have paid special attention to the performers in order to provide our guests with evenings with high quality music that will complement the experience of coming to our restaurant, from which you will take back the most beautiful memories, just like those from the seaside…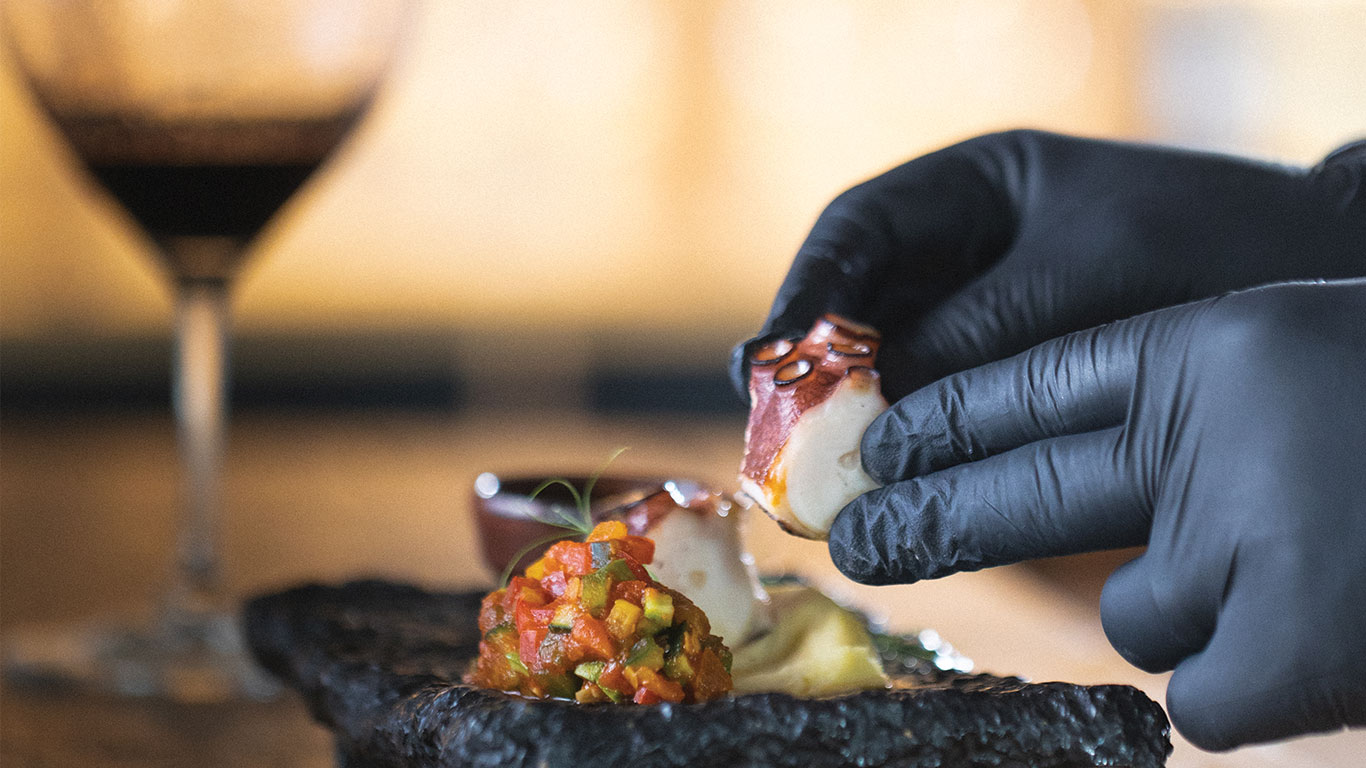 WINE AND TATA MATA
Thematic food and wine pairing
We aim to pair our food with wine at least once a month and organize an evening where our guests can enjoy a special menu prepared by our chef, paired with wines carefully selected by our sommelier.
The next evening:

Date:
Price per person: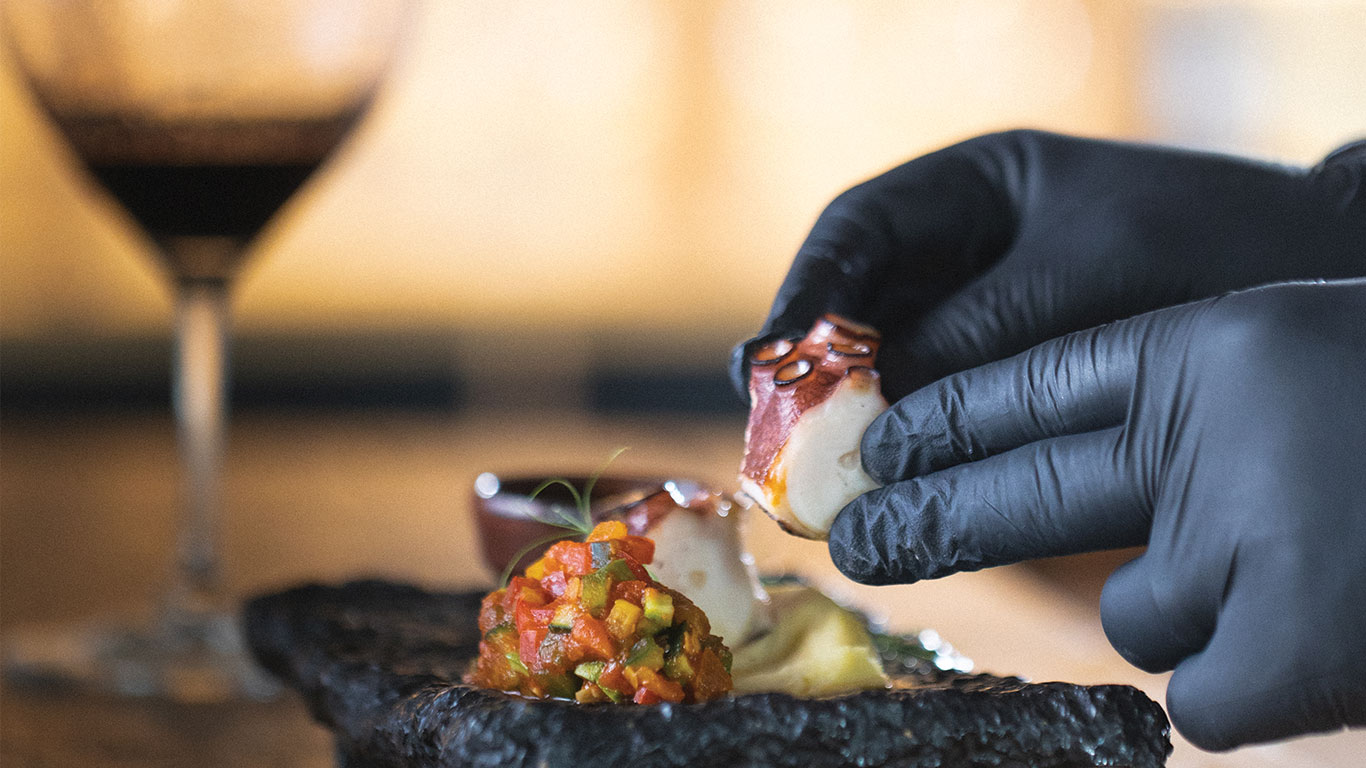 Konoba & Wine Bar
Gallery